SDS Australia specialises in manufacturing, construction and installation of custom built saunas. We also stock a wide range of sauna accessories available for purchase with a fast delivery to Australia and New Zealand. We design and build traditional hot rocks/stones, infrared, hybrid (infrared + traditional), indoor and outdoor saunas for private usage at your home or public and commercial saunas for hotels, strata apartments, gyms and swimming centres. All photos that you see on our website is our own work created over many years!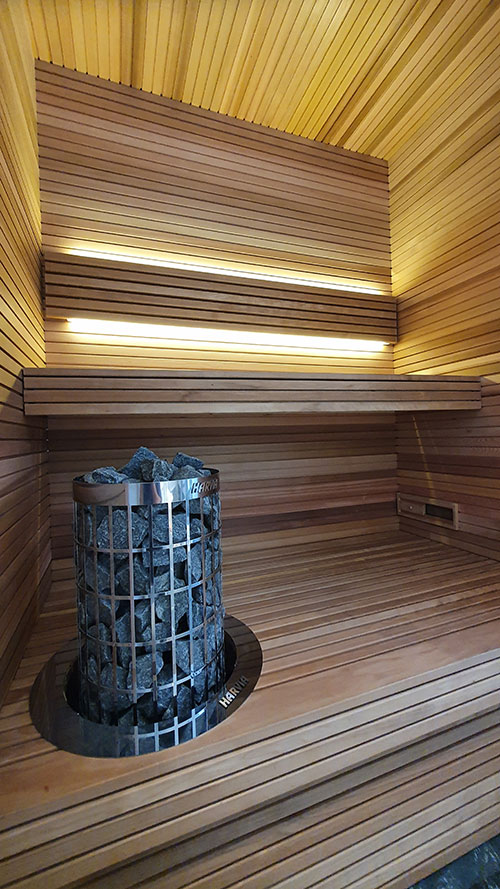 Custom Built Indoor Sauna
SDS Australia™ builds custom saunas exactly to your specification and in your preferred location. Our custom saunas can be constructed in any size and shape and personalised to your liking! 
Building your sauna with us is real fun! You can select from various types of timber, outside and inside stone cladding, select custom size benches, grills, backrests, throw in some modern LED lighting to perfectly compliment your own sense of style and one of our funky round modern heaters to add some quirkiness. You can even furnish your sauna with full glass door or traditional wooden door to enhance the olden-days atmosphere, or go with a modern full glass front wall if that's what you are after!
Whether you are a private individual looking for a high-quality sauna, or a commercial client needing to build a new indoors sauna or to renovate your old sauna, you can rely on SDS Australia™ to deliver a sharp product at competitive price!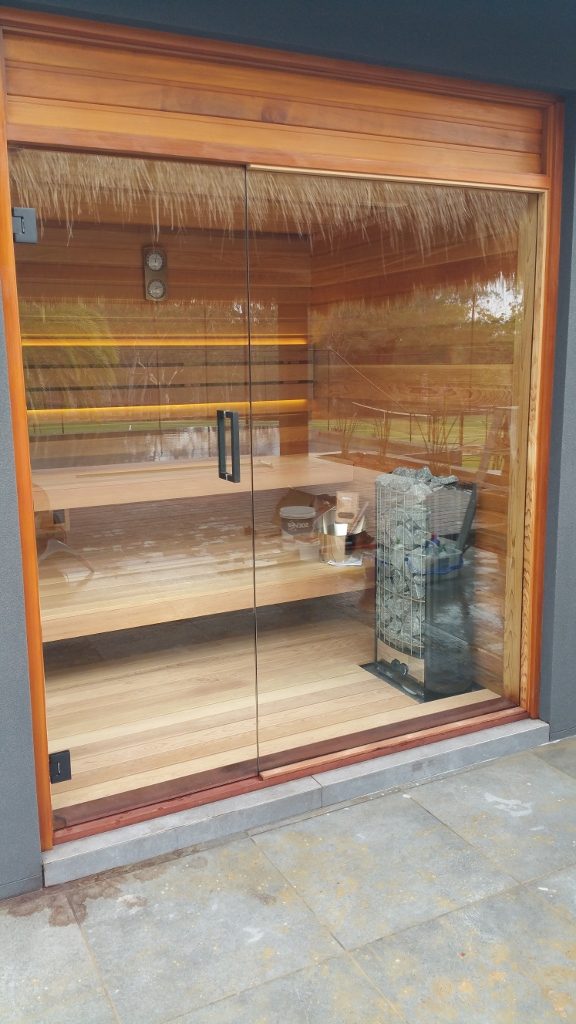 Custom Built Outdoor Sauna
Whether it's a genuine Finnish sauna enjoyment that you are after that was traditionally consisting of a separate outdoors building, or a more contemporary type such as the Infrared, we've got you covered! What's more, we can combine the two technologies in our Hybrid option too, so you can use Infrared one day and traditional 'hot rocks' heater the other. And of course the heater can be electric or wood fired to give you even more options!
Experience the sensation of the fresh evening breeze with SDS Australia™ custom built outdoor saunas!
Your outdoor sauna can be built in accordance with your specification, wishes and the budget!
You can choose different type of materials for external walls: traditional timber from Premium Western Red Cedar panels or "budget" knotty weatherboard, painted siding board to match with existing building, stone or vinyl cladding in various styles and colours. Outdoor sauna roof can be made from shingles or corrugated metal. Your sauna can get very unique appearance with double glazing windows, or even, with full front wall covered in glass with a glass door. Additional sauna feature like changing room, veranda or just a deck for relaxation after sauna can also be designed.
Whether it's next to your swimming pool, in your green garden, or in the middle of a humming forest, our quality outdoor sauna will deliver you plenty of special moments and years of genuine enjoyment.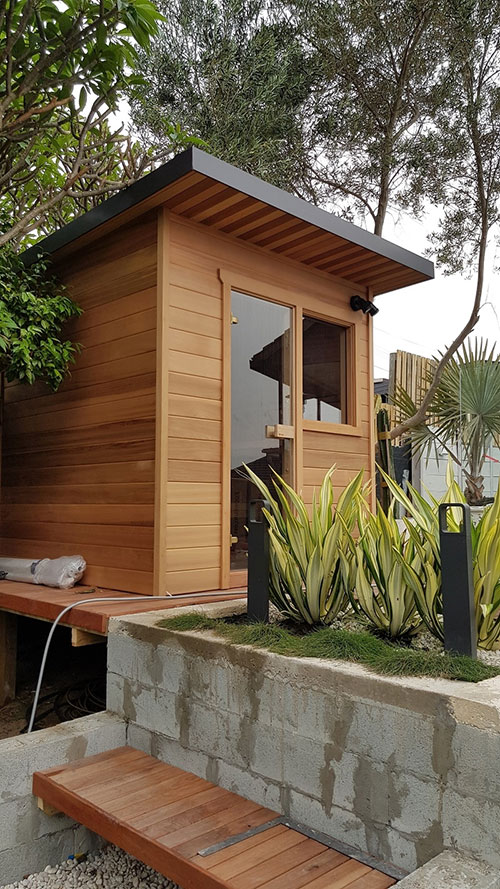 All our prefabricated panelled saunas are made at SDS Australia's factory located in NOWRA, NSW.
Our saunas are made from quality timber such as Northern Spruce or Canadian Western red Cedar with a strong lasting frame, mineral wool and aluminium foil inside the wall panels, high-quality solid benches, and are equipped with Finnish made Harvia heaters. Although other heaters can be ordered if required.
Prefab panelled saunas are easy to assemble: every sauna delivered complete with clear instruction. So you can assemble the sauna yourself , or use one of the trained professional installers employed by our company.
The sauna can be installed anywhere indoors or outdoors.
Prefab panelled saunas built in accordance with your specification in any size, timber, shape…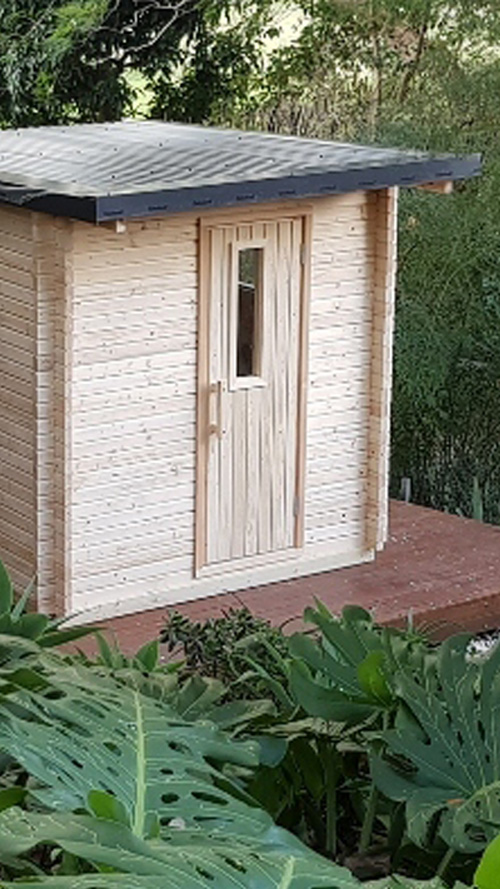 SDS Australia™ log timber sauna walls are made from thick timber and therefore do not require any sort of insulation, aluminium foil or timber planks. For this type of sauna we normally use European Spruce timber.
120*45mm and 90*45 mm size logs and Canadian Western Red Cedar 127*38 mm size logs.
The roof of log timber sauna can be made in gable or pitch design and covered by bitumen shingles or corrugated metal. It can be constructed with windows, equipped by full glass door or traditional wooden door with glass insert. Veranda and changing room can be added to your sauna if required.
All SDS log timber saunas built in accordance with customer's specification in any size and design.