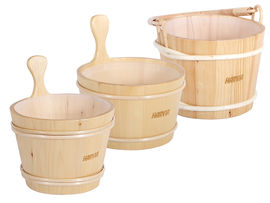 Bucket and Pail
The Harvia wooden buckets and pail are high-quality work. The plastic inner part gives the product a longer life and makes cleaning easy. The buckets come in sizes of 4 and 7 liters, and the pail in 12 liters.
Bucket, 4 l, wooden with a plastic pot (SAC10003)
Bucket, 7 l, wooden with a plastic pot (SAC10107)
Pail, 12 l, wooden with a plastic pot (SAC10712)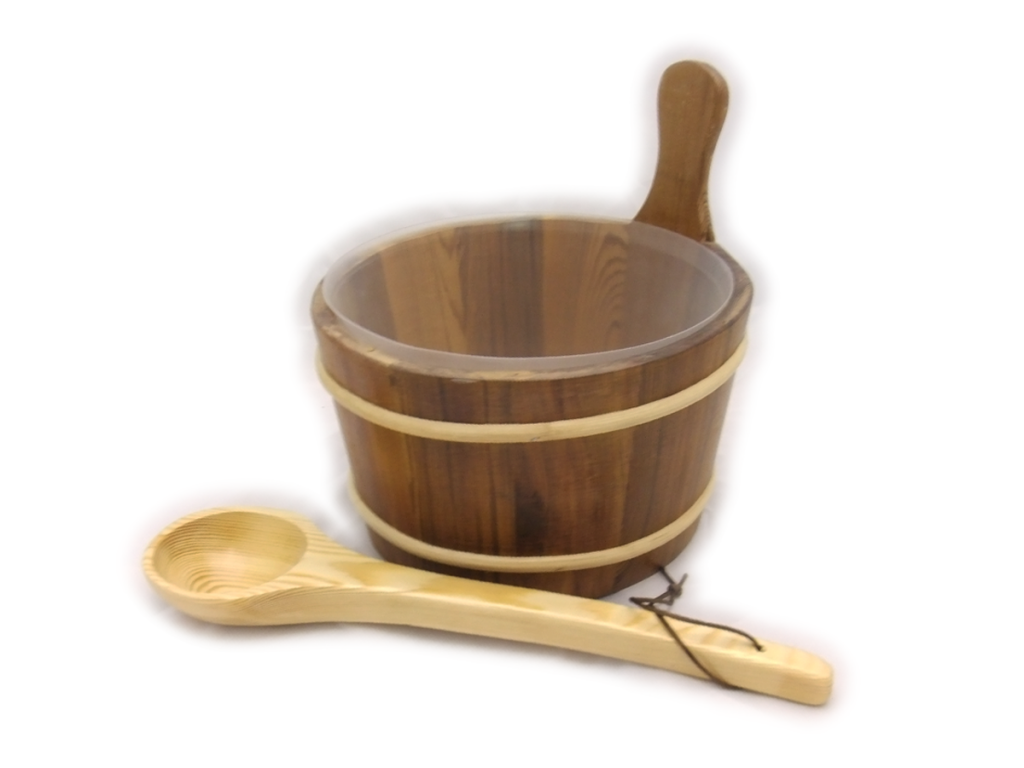 Western Red Cedar wooden bucket 4L
3-piece consisting of a sauna set Bucket 4l natural wood with Red Cedar optics leak protection, plastic, and a matching ladle.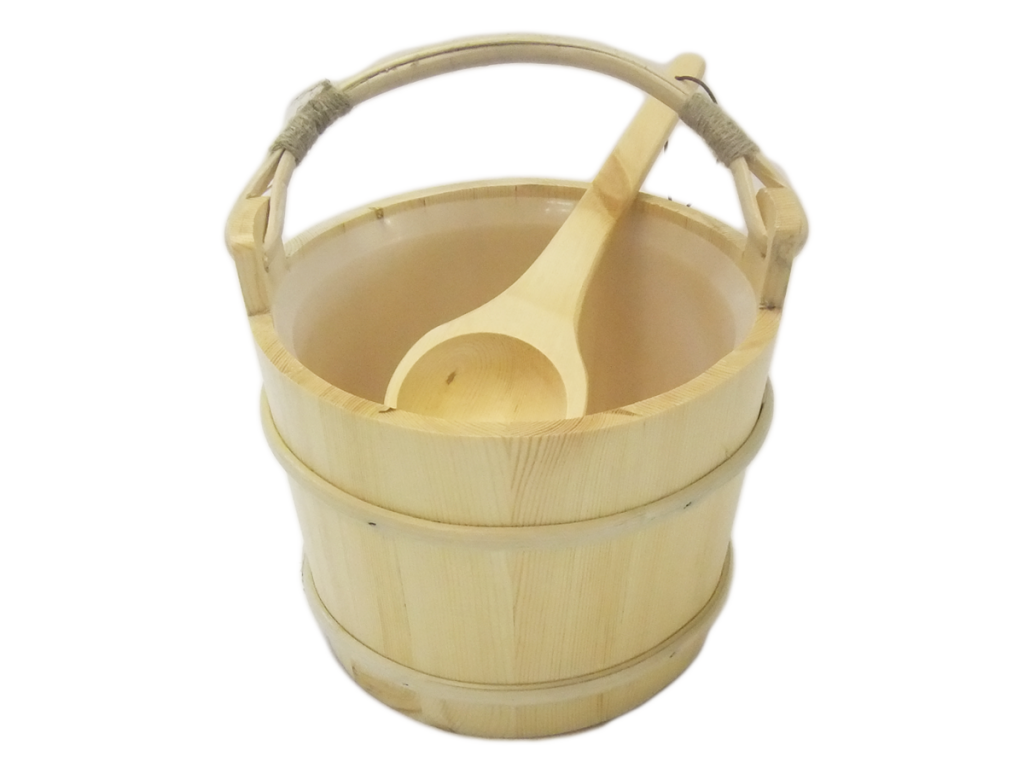 Wooden bucket and ladle bamboo handle
3-piece consisting of a sauna set Bucket 4l natural wood with 5l light natural wood with bamboo handle leak protection, plastic, and a matching ladle.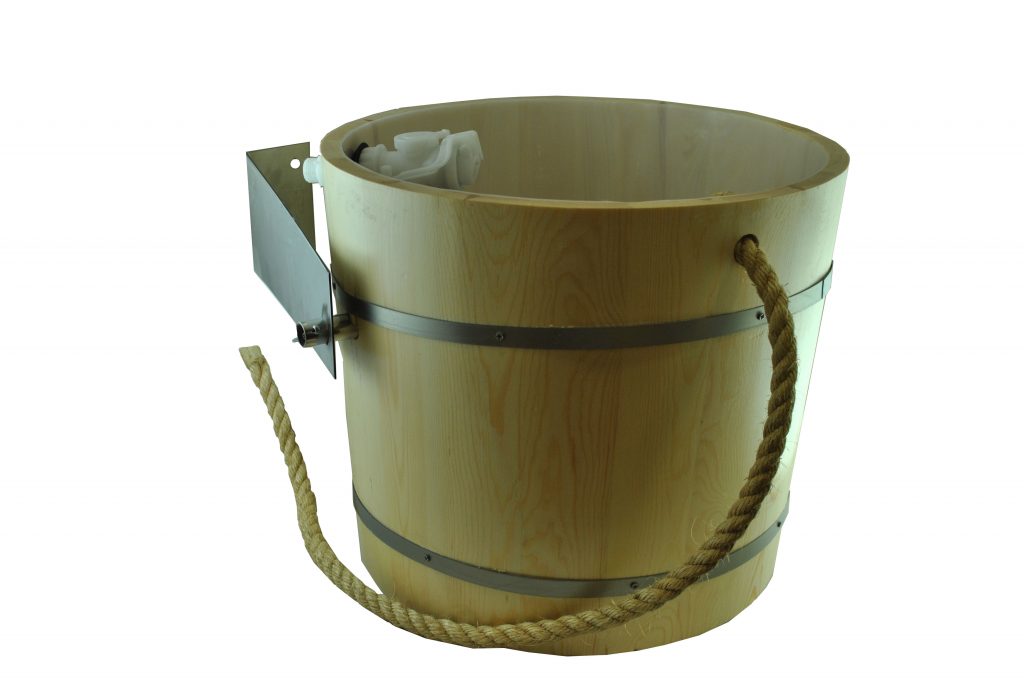 Sauna shower- waterfall bucket 20L
This Wooden Sauna Bucket Shower included is a plastic insert liner that keeps the bucket from leaking and provides added hygiene when bathing in a sauna! As well, contains a steel mounting kit with six pre-drilled holes for easy mounting. To add, it includes a stop to ensure that the water does not overfill. The wood bucket shower enhances the decor of any sauna!
This sauna wood bucket shower holds approx 20.8 liters or 5.5 gallon and measures is 16″ diameter by 12.5″ tall.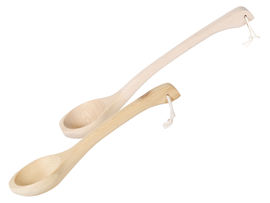 Ladles
Together with the wooden buckets, the Harvia wooden ladles form a traditional package for your sauna. The ladles come in two sizes: 36 cm and 48 cm.
Ladle, 36 cm, wooden (SAC10640)
Ladle, 48 cm, wooden (SAC10650)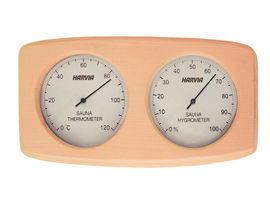 Thermo – and Hydrometer
The reliable Harvia thermo- hygrometer gives you an easy way to keep an eye on both the sauna temperature and air humidity.
Thermo-/hygrometer (SAS92300)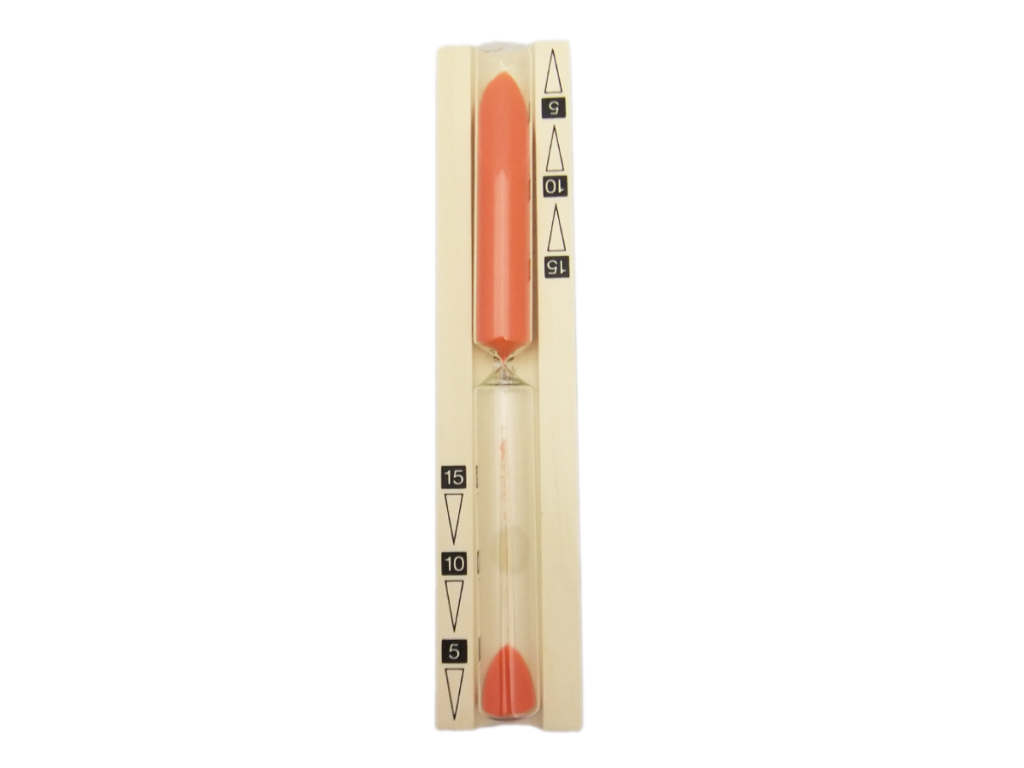 Sauna hourglass 15 minutes Red
Red Hourglass
Running time 15 minutes runtime accuracy +/- 2 minutes bogie made ??of natural wood, glass cylinder with red sand
Dimensions: WxHxD 50x275x25mm
Info: Sand is a natural product. Each grain of sand is shaped differently. Therefore, it is difficult to give an exact term for hourglasses. Tolerances up to 2 minutes are unfortunately unavoidable. It can happen that are blocking each other several grains of sand on the run site. Just tap lightly against the glass or turn the short to eliminate the hourglass to the blockade. Under certain climatic conditions, a light film may be on the inside of the glass cylinder form. This is not a manufacturing defect but a natural phenomenon due to static electricity.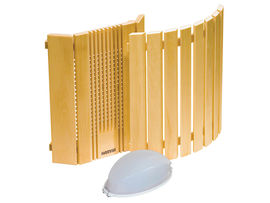 Sauna Lamp and  Lampshades
The Harvia sauna lamp and wooden lampshade compose a basic sauna light fitting that is easy to assemble. The classic design of the lamp and lampshades makes it suitable for any sauna. 
SWLUX-lampshade (SAS21103) 
SW-lampshade (SAS21101)
Sauna lamp (SAS21060)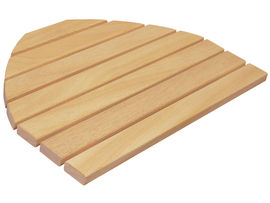 Head Rest
The elegantly designed Harvia head rest is a beautiful touch for your sauna, as well as being a comfortable accessory for relaxing in the sauna.
Head rest 34 x 48 cm (SAS24020)
Ventilation Valve and Grill
The ventilation valve and grill comprise a convenient and functional solution for the vent hole. They are made of durable wood and plywood, made to endure the heat and humidity of a sauna without twisting.
Ventilation valve (SAS24200)
Ventilation grill (SAS24300)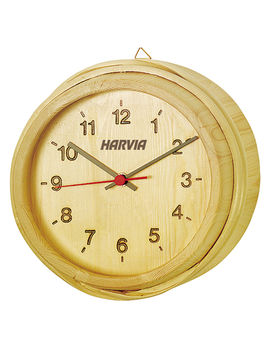 Sauna Clock
The Harvia sauna clock is shaped like the bottom of a bucket. The clock is not suitable for use in the sauna, but it is perfect for creating the sauna atmosphere in the changing room.
Sauna clock (SAC92401)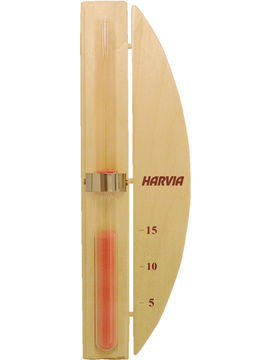 Sandglass Lux
The sandglass Lux is a beautiful touch in the decoration of your sauna, and it can be used to show a suitable bathing time or simply as a reminder that time goes on. The sand flows in 15 minutes.
Sandglass Lux (SAC19800)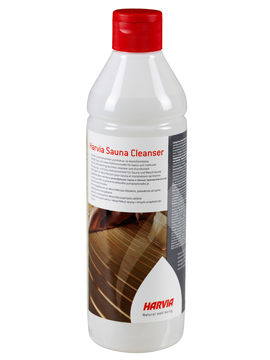 Sauna Cleanser
 Harvia Sauna Cleanser is a cleanser and disinfectant, which makes sauna cleaning easy and efficient. The Sauna Cleanser is included in the Harvia Sauna Care Set, an extensive package of products for the care of the sauna.
Sauna Cleanser, cleanser and disinfectant for sauna (SAC25040)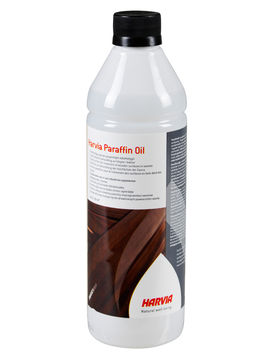 Paraffin oil
By protecting the wooden surfaces with paraffin oil, you can reduce the amount of moisture and dirt absorbed into the wood. It also accentuates the shades of the wooden surfaces beautifully. Paraffin oil can be used for all wooden surfaces, but it is especially good for heat-treated and alder surfaces. Paraffin oil is included in the Harvia Sauna Care Set, an extensive package of products for the care of the sauna.
Paraffin oil (SAC25060)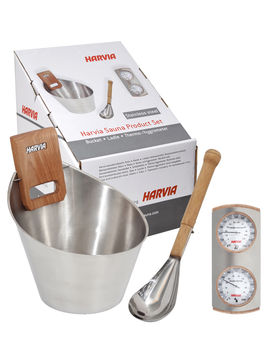 Steel accessories set
Enhance your sauna with the stylish sauna accessories. The Harvia stainless steel accessories set comprises a bucket, ladle and thermo/hygrometer.
Steel accessories set (SA006)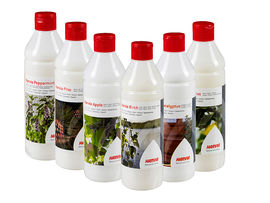 Sauna aromas
Harvia sauna aromas with essential oils enable you to create an enjoyable atmosphere in your sauna. Choose the fresh peppermint or eucalyptus, the fruity aromas of citrus or apple, or create the atmosphere of a lakeside sauna with the aromas of birch or pine.
Harvia sauna aromas with essential oils are used in conventional saunas as follows: apply aroma to sauna water and throw water on the heater stones.
Eucalyptus (SAC25011)
Citrus (SAC25012)
Birch (SAC25013)
Pine SAC25014)
Peppermint (SAC25017)
Apple (SAC25018)